Robert Softley Gale, Patron

Robert is an established figure in the Scottish arts scene as an actor, performer and writer. He is the Artistic Director of Birds of Paradise Theatre Company, a Scottish touring company that promotes the work of disabled artists in partnership with non-disabled artists and mainstream theatre venues and companies. Everyone who knows Robert will know he is a vocal advocate for equality of access to the arts for disabled people either as artists or audiences. Robert is also a board member for the National Theatre for Scotland.
At the core of Robert's working practice is the belief that we can develop an arts sector in Scotland that is inclusive of disabled people and is reflective of the society in which we live.
Elaine is Head of Advanced Learning and Skills Analysis at the Scottish Government running an analytical team working in the Higher and Further Education and Skills Department.

Anja is a lecturer in Speech and Language Therapy at Strathclyde University, and an expert in motor speech disorders. As part of her research, she works with children with cerebral palsy who have speech difficulties. She has volunteered for Speech Bubble because of her interest in the influence drama-based exercises have on the wellbeing of children and young people with speech problems.
Tracey Allen, Co-Treasurer
Tracey is the parent and full-time carer of a teenager with cerebral palsy, she has a background in community work.
Avril McLean, Co-Treasurer
Avril is a Principal Teacher of Early Years specialising in Nurseries and Primary 1. She has worked with many children with Language and Communication difficulties and Additional Support Needs and has a keen professional interest in speech development.  She firmly believes that children learn best while they are having fun, and this is primarily what has brought her to become a volunteer for Speech Bubble.
Anne McAleer, Trustee
Anne is a recently retired Project Manager dealing with City Deal projects within a Local government setting. She has extensive experience in both physical and social regeneration projects and has retained a strong interest and support for activities that further positive outcomes for individuals. She hopes to support Speech Bubble make a positive contribution to supporting children with disabilities.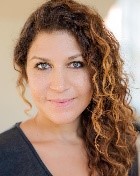 Nicole Cooper, Trustee
Nicole is an award-winning actor and an acclaimed interpreter of Shakespearean drama.  As someone who has first-hand knowledge of the power and benefits of speech therapy Nicole was thrilled to be a part of the Speech Bubble team. 
Jennifer Cassidy, Chief Executive and Co-founder
Jennifer is a Children and Young Persons' Advocate, and the parent of a teenager with cerebral palsy.  She helped set up this organisation because she saw first-hand, the impact of speech difficulties on social interaction.  She believes that young people understanding how to make the best of their voices is the key to confident communication and that doing something they love in a fun and creative setting is the best way to achieve that.